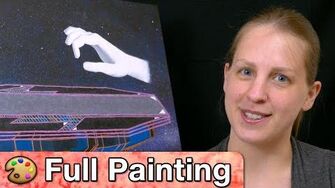 Previous Painting (Kirby's Dream Land - "Whispy Woods") | Next Painting (Minecraft - "Dusk Squared")
"Challenger Approaching" Time Lapse
"Challenger Approaching" is the tenth video game painting by Mal on MalMakes.
Mal's first experience with Melee was playing the game at Steph's house in high school along with Lindsey and a few other friends. Mal and Stephen have since done playthroughs of both Super Smash Bros. Brawl and Super Smash Bros. for Wii U
Materials
Edit
Canvas: 18x24 Gessoed in black
Paints: Golden Heavy Body Acrylics in: Mars Black, Primary Cyan, Primary Magenta, & Titanium White. Golden Fluid Acrylics in: Zinc White. Golden High Flow Acrylics in: Titanium White
Brushes: Assorted Acrylic brushes (Blick Studio Synthetic brushes are some of my favorites!)
Special tools/materials: Toothbrush, glass palette, & white conté crayon
Posters and prints of this painting can be purchased here.
Ad blocker interference detected!
Wikia is a free-to-use site that makes money from advertising. We have a modified experience for viewers using ad blockers

Wikia is not accessible if you've made further modifications. Remove the custom ad blocker rule(s) and the page will load as expected.