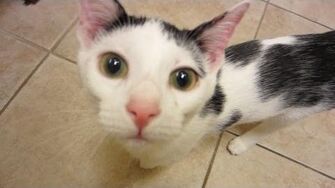 Previous Vlog (Day 1063) | Next Vlog (Day 1065)
Locations
Edit
The vet
Stephen's car
Stephen and Mal's apartment
Stephen's parents' house
Kepler's spots aren't getting any better, so Stephen and Mal take them to the vet. They kittens get lyme and sulfur baths to help with the spots, which makes them smell like rotten eggs. Meantime, Stephen explains their plan to toilet train the cats.
Stephen and Mal have some pizza with Debra and Steve. Afterwards, they give the kitties their medicine, which works a bit better than their previous medicine.
Ad blocker interference detected!
Wikia is a free-to-use site that makes money from advertising. We have a modified experience for viewers using ad blockers

Wikia is not accessible if you've made further modifications. Remove the custom ad blocker rule(s) and the page will load as expected.