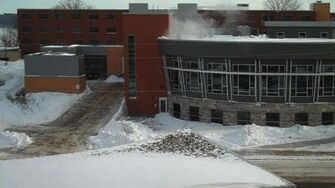 Previous Vlog (Day 386) | Next Vlog (Day 388)
Locations
Edit
Mallory's Dorm - UW Stout
Mallory's Car
The Cafeteria - UW Stout
Stout Ale House
It's Finals - Day 1 for Mallory, so Stephen & Mal decide to celebrate by walking through more of snow country to the finals. Plus, Stephen slips and falls on ice-covered sidewalk, lots of packing to do before Mal departs from her dorm on Saturday, and a celebratory dinner (sort of) at the Stout Ale House, best known for having two deer run amok inside!
Stephen mentioned that the Stout Ale House is known nationally for two deer that ran amok inside last Winter, and has links to three videos of the incident: One here, one here, and one here.
This marks the first appearance of Hayley on the Vlog. Stephen shows a photo of her baking, but she doesn't appear physically until the following day.
Stephen: "So we just gotta drive...through snow country. Hey?"
Ad blocker interference detected!
Wikia is a free-to-use site that makes money from advertising. We have a modified experience for viewers using ad blockers

Wikia is not accessible if you've made further modifications. Remove the custom ad blocker rule(s) and the page will load as expected.