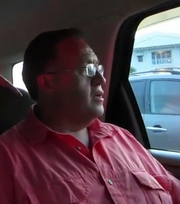 Steve is the Ultimate Champion.  He is also Stephen's father and the husband of Debra. He appears frequently on the vlog and is famous for wearing a white V-neck T-shirt.
Steve may appear to have a quiet and calm nature about himself, but he is actually very outgoing: on Day 263 of the vlog, fans got a larger glimpse of his personality through a memorable game of charades.
Ad blocker interference detected!
Wikia is a free-to-use site that makes money from advertising. We have a modified experience for viewers using ad blockers

Wikia is not accessible if you've made further modifications. Remove the custom ad blocker rule(s) and the page will load as expected.