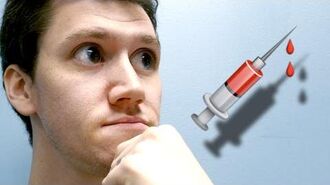 Previous Vlog (Day 2641) | Next Vlog (Day 2643)
Locations
Edit
Doctor's office
Stephen's car
Stephen and Mal's house
Stephen's parents' house
Stephen goes to the doctor, along with Mal. He finds out that he has a very bad ear infection, and is given a steroid shot in the butt to help clear it up. He also gets some steroid pills and Z-Pak to help.
Back at the house, Stephen talks about how good he felt and how much energy he had, while Mal mentions that she might be getting what Stephen had.
For dinner, Stephen and Mal go over to Stephen's parents' house to eat pizza, and also pick up their router. Stephen talks about how he has since crashed from the steroid, and that he is back to normal.
Back at home, Stephen tries to install the new router, but it doesn't restore their Internet. With Jeff's help, they find that the power surge a few days ago had both reset the modem and killed the old router. They manage to get WiFi working after switching the modem into bridge mode.
Ad blocker interference detected!
Wikia is a free-to-use site that makes money from advertising. We have a modified experience for viewers using ad blockers

Wikia is not accessible if you've made further modifications. Remove the custom ad blocker rule(s) and the page will load as expected.