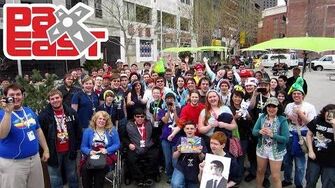 Previous Vlog (Day 1598) | Next Vlog (Day 1600)
A bunch of people from the meetup
Locations
Edit
Boston, MA

Tatte
Chinatown Park
Boston Convention and Exhibition Center
A hotel
Stephen and the gang head to Tatte for breakfast, then head out to the meetup, where they are joined by tons of fans. They head to the convention centre and meet up with some people from Fangamer, including Steve and Toby, who was last seen on Day 248. They demo some games around the expo hall then Stephen, Mal, and Josh go to a tournament put on by The Runaway Guys. Back at the hotel, Stephen tries to end off the vlog while Alex places a chair on the edge of his bed, which proceeds to fall off of said bed.
Stephen: "I'll do 3, 2, 1, then, 'Let's meet back tomorrow, shall we!' All right, ready, 3, 2, 1..."

Crowd: "Let's meet back tomorrow, shall we!"
Stephen: "Okay, now everyone look at Emile and say, "Chuggaa, get it right!"
Crowd: "CHUGGAA, GET IT RIGHT!"
Despite Stephen's efforts to keep the identity of the game of The Runaway Guys tournament under wraps, even censoring the television and the people in the final round, he immediately reveals the game in a discussion after the tournament.

The game was Super Smash Bros. Melee.

Footage from the meetup was provided by several people. Various channels have uploaded videos from the meetup, including Erin Williams, NeoDarkraiTV, Dinos24SP, SargeantMario101, RuskieVlog, JepsCon (Josh), and DailyDanVlog (Dan).
Ad blocker interference detected!
Wikia is a free-to-use site that makes money from advertising. We have a modified experience for viewers using ad blockers

Wikia is not accessible if you've made further modifications. Remove the custom ad blocker rule(s) and the page will load as expected.