Half-Life 2 is Stephen Georg's second let's play, following Portal. It's first episode was uploaded on February 26th, 2011 and the last on April 14th, 2011. There were 41 episodes in total.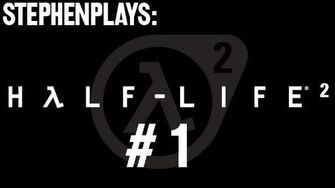 *Note: This is a test. You'll notice that if you go over to the Gregori is Dead page and click on the link, it will bring you straight to this section. I'm thinking that instead of having separate pages for every single episode, it might be better to just put all the episodes on the LP's page under sections like this, with a few sentences describing what happened. If we decide later that we want individual pages for the episodes, we can still do that, but this might be easier to start with.
Ad blocker interference detected!
Wikia is a free-to-use site that makes money from advertising. We have a modified experience for viewers using ad blockers

Wikia is not accessible if you've made further modifications. Remove the custom ad blocker rule(s) and the page will load as expected.