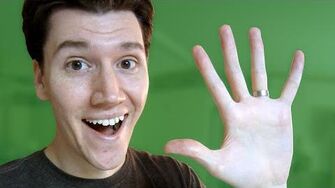 Previous Vlog (Day 1825) | Next Vlog (Day 1827)
Locations
Edit
Stephen's parents' house
Stephen and Mal's apartment
StephenVlog turns five years old today! Time to celebrate with a cake and a (non-existent) candle.
Stephen also lets the viewers know that, after doing some thinking, he has started up a Patreon account. He spends the rest of the Vlog thanking the viewers for their support over the years, and hopes for five more successful years of both StephenVlog and StephenPlays.
The very first video on StephenVlog is here.
Stephen's Patreon page is here.
Traditionally when the Vlog hits a half-way point into the Vlog Year (Between November 24th and mid-to-late May or mid-to-late May to November 24th), there's a Past Half-Year video. However, as of Day 1703, that has changed, and a Past Half-Year video will be released when a half of the calendar year has passed (From January 1st to June 30th and from July 1st to December 31st).
Ad blocker interference detected!
Wikia is a free-to-use site that makes money from advertising. We have a modified experience for viewers using ad blockers

Wikia is not accessible if you've made further modifications. Remove the custom ad blocker rule(s) and the page will load as expected.