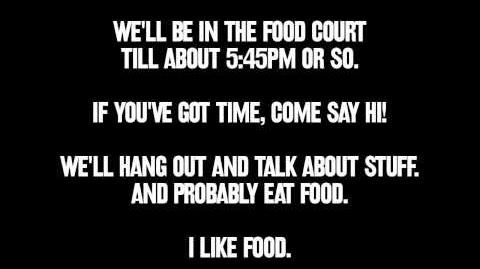 Previous Vlog (Day 857) | Next Vlog (Day 858)
Stephen informs the viewers that they can meet up with him and Mallory at the Mall at Millenia in Orlando, Florida in the food court on the 2nd floor on April 4th, 2012 at 5 p.m.
Stephen mentions in the comments of this video that he looped an 8 second Soundbooth score to make the music for this video.
Nobody came to the meetup, which was on Day 862.
Stephen's second meetup was the StephenVlog Chicago Meetup!
Ad blocker interference detected!
Wikia is a free-to-use site that makes money from advertising. We have a modified experience for viewers using ad blockers

Wikia is not accessible if you've made further modifications. Remove the custom ad blocker rule(s) and the page will load as expected.