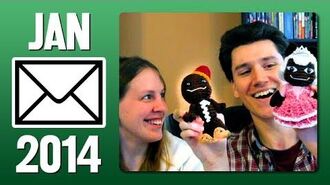 Previous Mail Episode (December 2013) | Next Mail Episode (February 2014)
Letters/Cards
Edit
Erin - San Francisco, CA (YT: EriiBerries)
Steele - Perth, Western Australia
Hazael - Mexico City, Mexico (YT: White Tom Nook)

Also sent Pokémon Ranger: Shadows of Almia (DS)

Jess - Winchester, KY (YT: PuppyLuver256)
Nick - Boscobel, WI
Paige - Milton, GA (YT: TheGrinningDemon)

Also sent recipe for slutty brownies
Sender
Contents
Isaiah
Covina, CA
Youtube: MVstudent
Claire
Ottawa, Ontario
Youtube: N/A

Letter
Clay accessories:

Donut earrings and a palette pendant for Mal
Mr Saturn and Vlog logo pendants for Stephen

Lisa
Netherlands
Youtube: Selphani

Letter
Some Dutch Euro coins
Art of Ness and Lucas from the MOTHER series
Cute phone cases, one with a bow-tie, one with a mustache
Candy:

Dutch peppermint pillows
Cinnamon pillows
Kersenstokjes (Dutch candy)

Chopsticks and cover

Kevin
Moon Township, PA
Youtube: SuperKeruso

Letter
Ratchet & Clank Collection (PS3)
'Ove' Glove + 'Ove' Glove Oven Rack Shield
Minecraft plushies:

Creeper, Enderman, Mooshroom

Derek
Biloxi, MS
Tumblr: Derek Rose

Letter
Clay Fighter: Sculptor's Cut (N64)
Stephen did the "I'm Jitters voice" from his Pokemon LeafGreen LP twice in this video.
It was mentioned in this video that Mallory really likes donuts (and Stephen does too).
Mallory actually has a lot of interest in engineering, and often wonders how her life would be different if she had chosen to do engineering instead of art.
On cinnamon gum:

Mallory is not a fan while Stephen loves cinnamon gum.
At the time of this video, apparently Debra has been chewing cinnamon gum every day.
Ad blocker interference detected!
Wikia is a free-to-use site that makes money from advertising. We have a modified experience for viewers using ad blockers

Wikia is not accessible if you've made further modifications. Remove the custom ad blocker rule(s) and the page will load as expected.