Previous Vlog (Day 1521) | Next Vlog (Day 1523)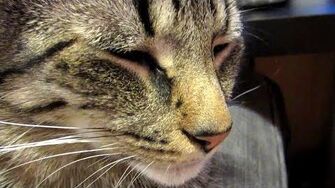 Stephen and Mal's apartment
Stephen opens by showing a package of tuna with an allergy warning for tuna. He then goes on to discuss his and Mal's attempts to cook perfect pan-seared tuna. In previous attempts, their tuna has come out cold in the centre, so they've tried defrosting this tuna for two whole days. The verdict: it's good, but it's still a little cold in the centre.
Stephen spends some time editing vlogs while petting the cats. He talks a bit about their plans for PAX east, then ends off the vlog.
Stephen: "In today's DUH moment, the package of tuna has an allergy warning. It simply says, 'Allergy warning: contains fish (Tuna).' Who would've thought?"
Ad blocker interference detected!
Wikia is a free-to-use site that makes money from advertising. We have a modified experience for viewers using ad blockers

Wikia is not accessible if you've made further modifications. Remove the custom ad blocker rule(s) and the page will load as expected.