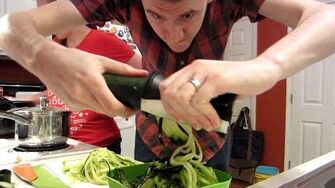 Previous Vlog (Day 2306) | Next Vlog (Day 2308)
Locations
Edit
Stephen and Mal's apartment
After trying out Chicken Zoodle Soup for the first time, Stephen and Mal try making some spaghetti out of zoodles, or zucchini noodles. The zoodles cook down a lot more than expected, and there's a lot of water that comes out of the zucchini. Looks like this recipe will require some fine tuning.
Ad blocker interference detected!
Wikia is a free-to-use site that makes money from advertising. We have a modified experience for viewers using ad blockers

Wikia is not accessible if you've made further modifications. Remove the custom ad blocker rule(s) and the page will load as expected.