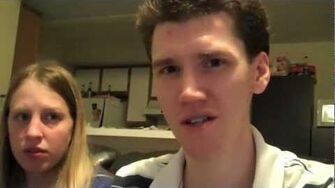 Previous Vlog (Day 671) | Next Vlog (Day 673)
Locations
Edit
Stephen and Mal's Apartment
Stephen and Mal try out a new boxed meal today, the Honey Mustard Chicken Helper. It's not very good (3.5 out of 7).
Stephen says that he has been wearing socks in the house since it's a bit cold in the apartment. He also notes that some viewers have been bemoaning the fact that the vlogs have been nothing but food and StephenPlays as of late. Stephen reminds the viewers that the vlog is not a TV show - it's his life.
To end the vlog, Stephen says that his parents have bought a Flip camera. He has no idea why, but he anticipates that an adventure is afoot.
Ad blocker interference detected!
Wikia is a free-to-use site that makes money from advertising. We have a modified experience for viewers using ad blockers

Wikia is not accessible if you've made further modifications. Remove the custom ad blocker rule(s) and the page will load as expected.