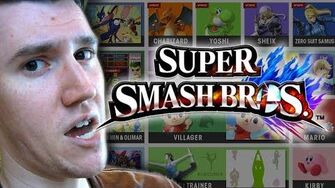 Previous Vlog (Day 1595) | Next Vlog (Day 1597)
Locations
Edit
Stephen and Mal's apartment
Stephen has spent most of the day working, and Mal is also at work. Stephen notes that Mal has a huge break coming up: she's going to PAX, then comes Spring Break, then the Easter long weekend happens.
Stephen spends the rest of the vlog talking about the Nintendo Direct for Super Smash Bros 4. He highlights the new characters, new items, differences between the 3DS and Wii U versions, and other miscellaneous news. Despite Ness not being announced as a playable character, Stephen still believes that he will be in the final game. To end the vlog, he asks the audience to talk about Smash Brothers.
Ad blocker interference detected!
Wikia is a free-to-use site that makes money from advertising. We have a modified experience for viewers using ad blockers

Wikia is not accessible if you've made further modifications. Remove the custom ad blocker rule(s) and the page will load as expected.