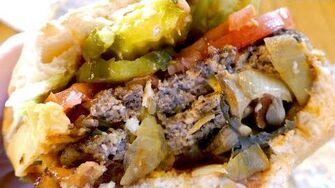 Previous Vlog (Day 2450) | Next Vlog (Day 2452)
Locations
Edit
Five Guys
Stephen and Mal's apartment
When Stephen gets a hamburger at Five Guys, he usually goes for "everything, no mayo" for toppings. Over the years, he has noticed that he has become a very "to-the-point orderer": he simplifies everything to a T for the person taking the order. This accomplishes two things. First, the person making the food and/or taking the order is less likely to make mistakes. Second, the servers tend to be appreciative of the simple orders.
Stephen asks the viewers what their experiences with ordering are, and what they usually try to do at restaurants.
Ad blocker interference detected!
Wikia is a free-to-use site that makes money from advertising. We have a modified experience for viewers using ad blockers

Wikia is not accessible if you've made further modifications. Remove the custom ad blocker rule(s) and the page will load as expected.