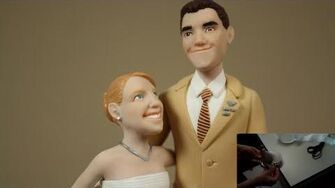 Previous Vlog (Day 615) | Next Vlog (Day 617)
Locations
Edit
Stephen & Mal's Apartment - Columbia, South Carolina
Stephen's Car
Stephen's Parents' House - Myrtle Beach, South Carolina
PO Box for viewers to send stuff? Check. More furniture assembly? Check. Now all that's left to do is head to Myrtle Beach and prepare for the wedding of Stephen & Mal in four days. Also, Stephen's diploma arrives, and a special package from Camille Young at Fangamer as well!
Some of Camille's works are featured on Fangamer's site, but most of her works are found on her site.
The wedding cake slicer used in the wedding came from Stephen's grandparents, and was used 53 years ago when Debra and Steve got married. The fact that the slicer had 53-year-old icing was reiterated by Stephen during their wedding party, and was dedicated to his late grandfather, who passed away years prior to Day Zero.
Stephen & Mal first met because they both loved the game Earthbound, hence why there's Mr. Saturn on their wedding cake topper.
Ad blocker interference detected!
Wikia is a free-to-use site that makes money from advertising. We have a modified experience for viewers using ad blockers

Wikia is not accessible if you've made further modifications. Remove the custom ad blocker rule(s) and the page will load as expected.