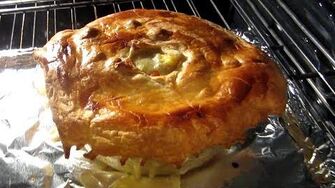 Previous Vlog (Day 1587) | Next Vlog (Day 1589)
Locations
Edit
Stephen and Mal's apartment
Mal is making chicken pot pie which Stephen hasn't had in a long time and talks about how picky he was about food and his experiences with food in schools and how one time the chicken was completely raw. They then go on to finishing cooking. The end product not lookingto appealing, but Stephen still enjoyed it and ends off the vlog with the fact that PAX is coming.
Stephen: "She's made chicken, she's made pie she's made - uh she hasn't made pot."
Stephen: "This wasn't one of those this isn't very good, This was like you're going to make us all sick, WHAT THE HECK ARE YOU DOING!"
Ad blocker interference detected!
Wikia is a free-to-use site that makes money from advertising. We have a modified experience for viewers using ad blockers

Wikia is not accessible if you've made further modifications. Remove the custom ad blocker rule(s) and the page will load as expected.