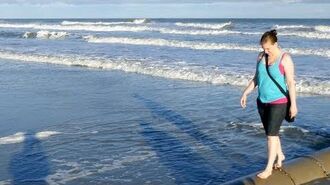 Previous Vlog (Day 2718) | Next Vlog (Day 2720)
Locations
Edit
Beach
Stephen's car
Stephen and Mallory's house
The vlog starts off at the beach for a beach walk, but it's really windy so you can actually see the sand going down the beach. It's also Cinco de Mayo, which means they tried to eat Mexican for lunch, but ended eating at Carraba's.
They then stop in at Chick-fil-A and Stephen gets a frosted coffee, which he rates a 7 out of 7, made of angels, though he does say it is too small.
Back at the house, Stephen and Mallory have just finished watching the 3rd episode of the Mystery Science Theater Revival, along with Chaz, Jeff and Dan, and have been enjoying it so far.
Ad blocker interference detected!
Wikia is a free-to-use site that makes money from advertising. We have a modified experience for viewers using ad blockers

Wikia is not accessible if you've made further modifications. Remove the custom ad blocker rule(s) and the page will load as expected.