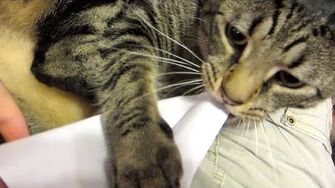 Previous Vlog (Day 1706) | Next Vlog (Day 1708)
Locations
Edit
Stephen and Mal's apartment
Buffalo Wild Wings
Mal goes to the dentist to get a filling looked at, then she and Stephen have lunch at Buffalo Wild Wings with his parents.
Later, Sagan somehow gets some poop on himself, so Stephen has to spend some valuable work time cleaning him up. He manages to edit 11 LP episodes in 12 hours... but that means that he doesn't get any sleep... and they have to leave for their road trip.
Ad blocker interference detected!
Wikia is a free-to-use site that makes money from advertising. We have a modified experience for viewers using ad blockers

Wikia is not accessible if you've made further modifications. Remove the custom ad blocker rule(s) and the page will load as expected.