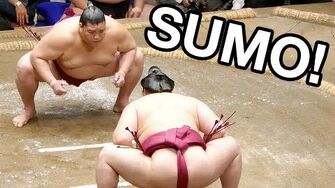 Previous Vlog (Day 2365) | Next Vlog (Day 2367)
Locations
Edit
An acrade
Yokoami, Tokyo

Ryōgoku Kokugikan stadium
It's sumo day today! Stephen, Mal, and the Fangamer crew go to watch some live sumo matches at Ryōgoku Kokugikan stadium. It's a lot more entertaining and exciting that Stephen and Mal initially thought.
On another note, Stephen thinks that he will be getting a new Macbook in the near future - his current laptop cannot handle 4K footage at all.
Stephen: "Before you can sumo, you must consume-oh... I tried."
Ad blocker interference detected!
Wikia is a free-to-use site that makes money from advertising. We have a modified experience for viewers using ad blockers

Wikia is not accessible if you've made further modifications. Remove the custom ad blocker rule(s) and the page will load as expected.