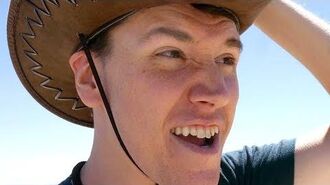 Previous Vlog (Day 2738) | Next Vlog (Day 2740)
Locations
Edit
Little Colorado River Overlook Gorge (Cameron, AZ)
Dam Bar & Grille (Page, AZ)
Tahoma House (Page, AZ)
Stephen and company leave Williams, AZ and begin their journey to Page, AZ, where they will be staying for the next few days and meeting the rest of Mallory's extended family. On the way there, they stop at a really windy overlook gorge. Stephen mentions that there are some Native American people selling handicrafts nearby, which he finds pretty cool.
Some time later, they make it to Page, AZ and sit down for lunch at Dam Bar & Grille. They then head to their vacation rental home, and Stephen and Mallory take the viewers on a tour of the house. It's pretty big, has a bunch of cool stuff, and offers a fantastic view of the surrounding area. It even comes with a pool!
"These are like hurricane force winds! Seriously!" - Stephen (commenting on the wind at Little Colorado River Overlook Gorge)
Stephen and Mallory have traveled with Mark and Rhonda before and have gone with them to:
Stephen and Mallory have previously been to Arizona to:
Ad blocker interference detected!
Wikia is a free-to-use site that makes money from advertising. We have a modified experience for viewers using ad blockers

Wikia is not accessible if you've made further modifications. Remove the custom ad blocker rule(s) and the page will load as expected.