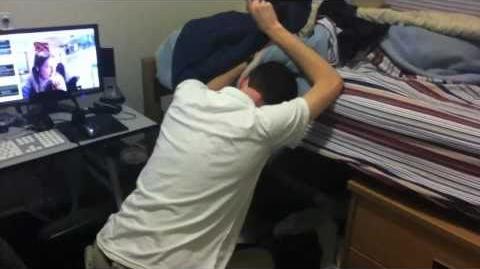 Previous Vlog (Day 521) | Next Vlog (Day 522)
Locations
Edit
Alex hides in Stephen's closet while Stephen enters his room. Just as Stephen calls Mallory on Skype, Alex exits the closet and loudly proclaims, "Hey bro," causing Stephen to scream and curse. As he does this, he goes face-first into his bed while recovering from Alex coming out of his closet. Stephen then proceeds to tell Alex repeatedly to get out of his room, all while Alex repeatedly responds by saying that this is payback for Stephen trying to scare the crap out of him. Dan even overhears this and asks if Alex scared him. Mallory then appears on Stephen's Mac screen via Skype, having no clue about what just happened. Stephen warns Alex that if he sees his face, he will "rip [his] heart out".
Stephen gets scared easily and it shows in this video.
Alex was recording the entire time in this bonus video, making it one of a few times that one of Stephen's friends is recording the vlog.
This Vlog day was mentioned in the StephenVlog Q&A - March 2012. One of the questions chosen was if Stephen was talking to Mallory on Skype at the time, and if so what her reaction was. They had not started a conversation yet, so she just heard Stephen screaming and had no idea what was going on.
Alex scares the crap out of Stephen in this video as payback for all those times Stephen tried to scare the crap out of Alex, such as day 416.
"Hey bro.." ~Alex

"OH MY JESUS! (bleep)AH!!! (bleep)ACK!!! SH-(bleep)!!! F-(bleep)-K!!!" ~Stephen

"You've done this to me multiple times." ~Alex

"You scared of him?" ~Dan(in the background)
"Oh my God." ~Stephen (Dan can be heard laughing here.)

"What? Are-are you alright?" ~Alex
"Are you okay?" ~Alex

"I'm fine. I'm fine." ~Stephen

"Are you sure?" ~Alex
"You're a little upset." ~Alex
"You seem a little upset." ~Alex

"If I see your face, I will rip out your heart." ~Stephen
"Get out of my room." ~Stephen
Ad blocker interference detected!
Wikia is a free-to-use site that makes money from advertising. We have a modified experience for viewers using ad blockers

Wikia is not accessible if you've made further modifications. Remove the custom ad blocker rule(s) and the page will load as expected.