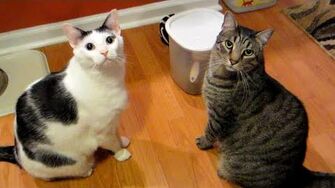 Previous Vlog (Day 2200) | Next Vlog (Day 2202)
Locations
Edit
Stephen and Mal's apartment
The cats have been gaining a decent amount of weight, so lately Stephen has been trying to distract the cats in other ways like letting them play with toys.
Stephen explains his and Mal's situation when it comes to picking up packages. They have a P.O. box at a rural post office that is open for a very limited time on Saturdays, which is the only day that they can drop by and pick up their packages. They'll be doing that tomorrow since they've recently received about six boxes from viewers.
Ad blocker interference detected!
Wikia is a free-to-use site that makes money from advertising. We have a modified experience for viewers using ad blockers

Wikia is not accessible if you've made further modifications. Remove the custom ad blocker rule(s) and the page will load as expected.