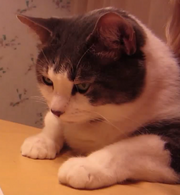 Rocko is Stephen's cat that lives with his parents, Debra and Steve. Rocko has appeared on the Vlog many times and is seen almost as regularly as food. In recent days it is shown that Rocko loves sitting with Mallory especially while the family is playing games together. Rocko is also 7 years old in human years. Rocko has also been seen on Ninten Speaks. Rocko first appears on Day 6.
Relationship with Sagan and Kepler
Rocko has seen Sagan and Kepler 4 times. The first visit is Day 1126. The second is Day 1188. The third is Day 1343. The fourth (and at the time, final visit) is on Day 1487. Rocko never got along with Sagan and Kepler until Day 1343, where they would actually step near eachother. Day 1487, the day the Georg family celebrated Christmas, is the most recent visit.
Ad blocker interference detected!
Wikia is a free-to-use site that makes money from advertising. We have a modified experience for viewers using ad blockers

Wikia is not accessible if you've made further modifications. Remove the custom ad blocker rule(s) and the page will load as expected.