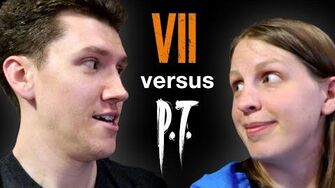 Previous Vlog (Day 2414) | Next Vlog (Day 2416)
Locations
Edit
Stephen and Mal's apartment
Stephen and Mal recently recorded the Demo for Resident Evil 7. Comparing the demo to P.T., a game that Stephen really enjoyed, there are some obvious similarities: both are very atmospheric with few jump scares, and both involve the player wandering around a house. Mal feels as though P.T. was a bit more frightening, as it had more psychological horror elements, while Stephen feels that some fans of the Resident Evil series may be upset at the new direction the series it taking.
Ad blocker interference detected!
Wikia is a free-to-use site that makes money from advertising. We have a modified experience for viewers using ad blockers

Wikia is not accessible if you've made further modifications. Remove the custom ad blocker rule(s) and the page will load as expected.