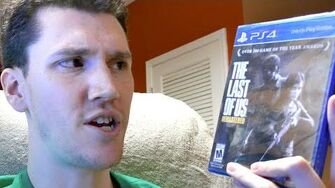 Previous Vlog (Day 2468) | Next Vlog (Day 2470)
Locations
Edit
Stephen and Mal's apartment
Stephen recently acquired a copy of The Last of Us, re-released for PS4. Both he and Mal would like to play through the game again at some point at 60 fps.
Stephen asks the viewers if they usually purchase re-released games, and for what purpose. Some people buy re-released games to play them at a higher resolution, some for extra content, some just for play-ability on a new console, and some for other reasons.
Ad blocker interference detected!
Wikia is a free-to-use site that makes money from advertising. We have a modified experience for viewers using ad blockers

Wikia is not accessible if you've made further modifications. Remove the custom ad blocker rule(s) and the page will load as expected.