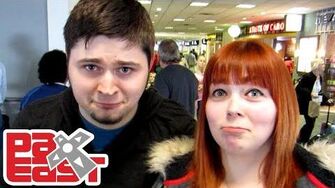 Previous Vlog (Day 1601) | Next Vlog (Day 1603)
Locations
Edit
Boston, MA

Logan International Airport

Myrtle Beach, SC

Myrtle Beach International Airport
Stephen and Mal's apartment
PAX is over, so Stephen and Mal say goodbye to Taylor, Alex, Hayley, Josh, and Brooke. On the flight back, Stephen and Mal play some Mario Kart 7 with Josh and Brooke, who are on the same flight.
After getting home, they say hi to the cats and Stephen reflects on this year's PAX. For him, the events are primarily a chance for him to become closer with his friends and hang out with fans.
Ad blocker interference detected!
Wikia is a free-to-use site that makes money from advertising. We have a modified experience for viewers using ad blockers

Wikia is not accessible if you've made further modifications. Remove the custom ad blocker rule(s) and the page will load as expected.