Previous Vlog (Day 1503) | Next Vlog (Day 1505)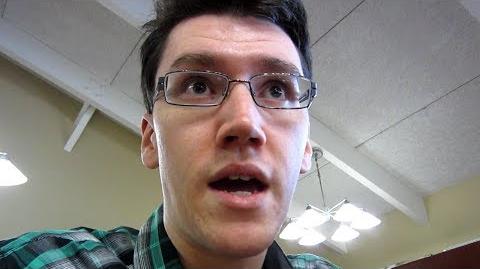 Golden Corral
Stephen and Mal's apartment
Stephen is having lunch at Golden Corral with his family - he's finally out of the house after several days of being ill. Mal went to school despite the fact that the is still sick, and it wasn't a great day for her.
For dinner, they try some frozen lasagna from Walmart. It's barely warm even though they cooked them for the proper time - this was a common occurrence in college as well with Stephen's dinners. Before the end slate, Stephen writes that the lasagna "became more and more terrible as [they] ate it."
Stephen also mentions that every school in the district has a two-hour delay tomorrow, but Mal's school does not for some reason. That sucks.
Mal: "I didn't even remember what my classroom looked like... For all I know there could have been razor blades lying everywhere."

Stephen: "Wow."
Mal: "There weren't razor blades lying everywhere."
Ad blocker interference detected!
Wikia is a free-to-use site that makes money from advertising. We have a modified experience for viewers using ad blockers

Wikia is not accessible if you've made further modifications. Remove the custom ad blocker rule(s) and the page will load as expected.