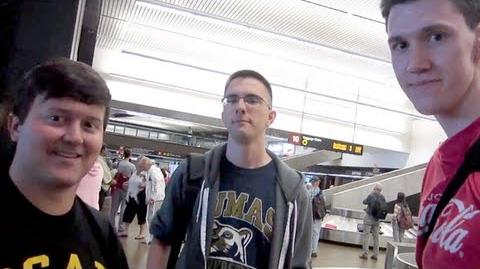 Previous Vlog (Day 1009) | Next Vlog (Day 1011)
Locations
Edit
Hotel room - Charleston, SC
Seattle Airport
Hotel room - Seattle, WA
The NYC Cafe
Thai Ginger
Arriving at Seattle, Washington one day before PAX Prime 2012, and having reunited with Alex and Dan, Stephen & Mal explore the world of Seattle, meetup with David, Marty, Neema, and Trip, reuniting with Paul and Chaz, having awesome food, checking in at the hotel, and invite Alex, Dan, David, Marty, and Paul for a crazy game of Cards Against Humanity! A fun-filled day of relaxing, but not for long, because PAX Prime 2012 awaits them all tomorrow...
This is the first time Stephen has been reunited with Alex since the end of college.
Stephen(reading off a card): "'And the Academy Award for Praying the gay away goes to White People.' This is a strong start."
Ad blocker interference detected!
Wikia is a free-to-use site that makes money from advertising. We have a modified experience for viewers using ad blockers

Wikia is not accessible if you've made further modifications. Remove the custom ad blocker rule(s) and the page will load as expected.