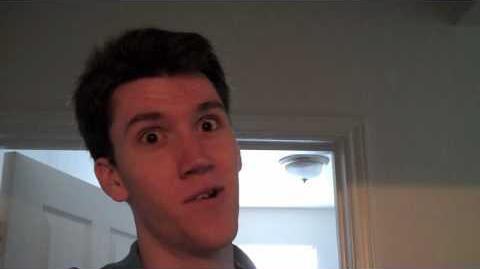 Previous Vlog (Day 137) | Next Vlog (Day 140)
Locations
Edit
Stephen's Dorm
Stephen's car
Stephen immediately admits that he didn't record anything the previous day, and he hasn't slept because of a project. With little rest, he leaves for his Chinese Art class.
Following a small cut, Stephen is exhausted after his Chinese Art class. As delirium sets in, Dan recommends that Stephen should take a nap.
After another cut, Stephen is late for his class presentation, due to a longer than expected nap. Sleeping through four alarms and a call from one of his group members, he woke up to a call from Mallory. Even though the group initially received a failing grade, Stephen was able to turn in the project and receive full credit.
Continuing his "DS Toilet Earthbound," Stephen attempts to get a Sword of Kings. After he defeats 193 Starmen Supers, he finally receives his long-awaited reward.
Stephen wraps up the vlog by providing a link for the blooper reel of his Self Portrait project.
Day 138 is skipped, which is one of the few times Stephen has skipped a vlog day since he began the vlog.
The Self Portrait project was filmed during Day 125.
Ad blocker interference detected!
Wikia is a free-to-use site that makes money from advertising. We have a modified experience for viewers using ad blockers

Wikia is not accessible if you've made further modifications. Remove the custom ad blocker rule(s) and the page will load as expected.