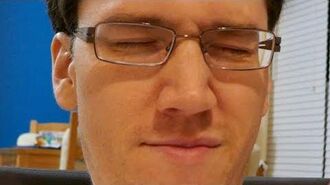 Previous Vlog (Day 2726) | Next Vlog (Day 2728)
Locations
Edit
Stephen and Mallory's house
Stephen talks about what he's struggled a little with since the surgery yesterday: peeing, figuring out what pain medication works and not being able to poop. That being said, he feels good enough to work since he doesn't feel any pain when sitting in his chair.
A few hours later, Austin and Nikki stop by to see Stephen and Mallory since they couldn't go to Nikki's baby shower because of Stephen's operation.
Some time later, Stephen and Mallory have gotten a lot of work done, with Mallory finishing her "Dyna" painting and Stephen managing to record Fallout and GTA Online. The downside is that it was painful for him when someone said something funny that made him laugh.
He also adds that the appendectomy has made him pray for farts, so that he can release the gas inside him without being in pain. He has really learnt to appreciate farts.
This vlog was filmed entirely from the sofa.
Mallory mentions in this vlog that the painting time for "Dyna" was 17 hours, and the longest painting of 2017 so far. This makes "Dyna" the second longest MalMakes painting to complete, second only to "Forbidden Lands".
Ad blocker interference detected!
Wikia is a free-to-use site that makes money from advertising. We have a modified experience for viewers using ad blockers

Wikia is not accessible if you've made further modifications. Remove the custom ad blocker rule(s) and the page will load as expected.