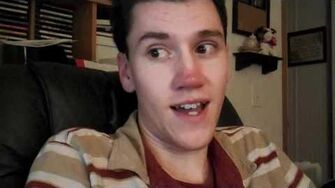 Previous Vlog (Day 587) | Next Vlog (Day 589)
Stephen's car
Stephen's parents' house
Mal gets her fingerprints done for a background check, grabs some lunch, then take a long nap. Afterwards, Stephen decides to record a few episodes of Portal 2. So far, he is having a phenomenal time with the game.
Stephen: "You're still filming? What do you want me to do? Do a dance? ... Danada nada na nada na, danada nada na nada na..."
Ad blocker interference detected!
Wikia is a free-to-use site that makes money from advertising. We have a modified experience for viewers using ad blockers

Wikia is not accessible if you've made further modifications. Remove the custom ad blocker rule(s) and the page will load as expected.