Stephen returned to Portal 2 on September 19th, 2011, following his single-player Portal 2 LP, except this time with Mallory to play through the game's co-op mode. The LP concluded on October 11th, 2011.
It was revisited again on March 6th, 2012, to play through the "Peer Review" downloadable content, and that finished on March 18th, 2012.
Portal 2 (Co-op with Mal) Playlist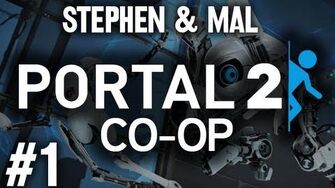 Memorable Moments from this LP
Edit
Ad blocker interference detected!
Wikia is a free-to-use site that makes money from advertising. We have a modified experience for viewers using ad blockers

Wikia is not accessible if you've made further modifications. Remove the custom ad blocker rule(s) and the page will load as expected.