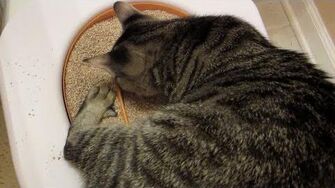 Previous Vlog (Day 1083) | Next Vlog (Day 1085)
Locations
Edit
Stephen and Mal's apartment
Stephen continues working on the kitties' toilet training, now utilizing a pie pan that he has cut out a tiny hole in. He places this under the amber ring, in hopes that the small hole will eventually get the cats used to go on the toilet, since they've had troubles with it until now. After many hours Stephen got both kitties to pee on the toilet, but only managed to get Sagan to poop. Stephen ends the vlog day by expressing his concern about Kepler going anywhere else but the toilet.
Ad blocker interference detected!
Wikia is a free-to-use site that makes money from advertising. We have a modified experience for viewers using ad blockers

Wikia is not accessible if you've made further modifications. Remove the custom ad blocker rule(s) and the page will load as expected.