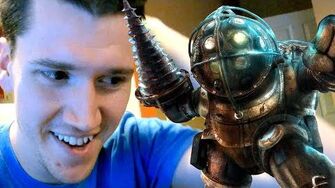 Previous Vlog (Day 2203) | Next Vlog (Day 2205)
Locations
Edit
Stephen and Mal's apartment
Stephen has reached a point in Bioshock with a major plot twist, and he is quickly learning what a great game it is. His favorite first-person shooter of all time is still Half-Life 2, but Bioshock is getting up there on his list. He recommends the game to everyone.
Ad blocker interference detected!
Wikia is a free-to-use site that makes money from advertising. We have a modified experience for viewers using ad blockers

Wikia is not accessible if you've made further modifications. Remove the custom ad blocker rule(s) and the page will load as expected.