Previous Vlog (Day 1564) | Next Vlog (Day 1566)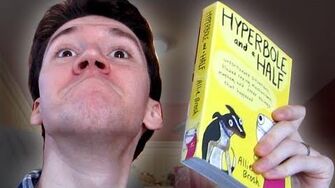 Locations
Edit
Stephen and Mal's apartment
Snooky's
Stephen's parents' house
Dan starts off the day by playing Bible Adventures (NES), which is a gem of a game. Meanwhile, Mal transplants some plants into improvised soil containers. They have lunch at Snooky's, then head back to the apartment for a gift exchange. Dan gets Stephen and Mal a Hyperbole and a Half book and The Art of The Last of Us. Stephen and Mal present Dan with an Adventure Time Mad Libs book and a Mel Brooks collection of films.
For dinner, they head over to Stephen's parents' house for some amazing chicken tacos. Stephen shows off a sticker that he has on his bedroom wall: the sale sticker for HALO 2 with the release date of the game.
Stephen: "We also got you a gift! It's Kepler! Please. Take him."
Dan: "Let's meet back tomorrow, shall... I? I'm just kidding. Let's meet back tomorrow. Please."
Dan's version of his weekend with Stephen and Mal can be found here, on dailydanvlog.
Ad blocker interference detected!
Wikia is a free-to-use site that makes money from advertising. We have a modified experience for viewers using ad blockers

Wikia is not accessible if you've made further modifications. Remove the custom ad blocker rule(s) and the page will load as expected.