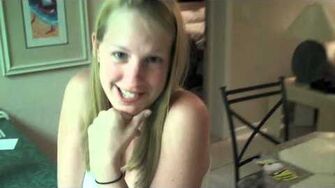 Previous Vlog (Day 262)
|
Next Vlog (Day 264)
Locations
Edit
Florida hotel
Coliseum of Comics
Walmart
Fajita's Mexican Buffet
The vlog begins with Stephen saying that Mallory enjoys her new Xbox, then going to Coliseum of Comics for a M11 gameday. Stephen then discusses how it went. He then goes with his parents and Mallory to Walmart, where he is confused about how they prevent you from taking the shopping carts beyond the parking lot boundary. After Walmart, they all go to a Mexican buffet to eat dinner. Back at the hotel, Stephen discusses how he walks up stairs and how he stands after his father walks oddly. Stephen displays how he can do a ballet pose in the discussion, which then turns into Mallory teaching Stephen's parents ballet stances. After all that, they play Cranium. The clip Stephen shows is his father attempting to mime "parachute".
Stephen: "Mexican buffet is such a good idea, cause you can make-you can pretty much make Taco Bell dishes, but they're actually real and they're good."
Ad blocker interference detected!
Wikia is a free-to-use site that makes money from advertising. We have a modified experience for viewers using ad blockers

Wikia is not accessible if you've made further modifications. Remove the custom ad blocker rule(s) and the page will load as expected.