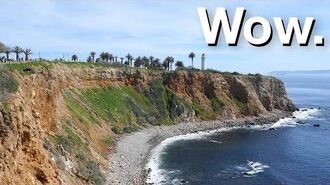 Previous Vlog (Day 2655) | Next Vlog (Day 2657)
Locations
Edit
Redondo Beach
SACKS on the beach
Palos Verdes coast
Mitsuwa Marketplace
Alex and Hayley's apartment
To start the day off, Stephen, Mal, Alex and Hayley have all come to Redondo Beach for a nice day out, after eating lunch at SACKS. Stephen and Hayley both rave about how good their sandwiches were, in particular, how good Hayley's sandwich was.
They spend some time walking on the beach. After that, they take an extremely scenic drive along Palos Verdes coast and then go to Mitsuwa, because Mal and Hayley want to make sushi for dinner. While they are shopping, Stephen and Alex got some ramen and takoyaki.
Back at the apartment, Hayley and Mal make sushi for dinner. It is the first time that both Mal and Hayley have made sushi with raw fish. The sushi turned out great and they all eat a lot of it.
To end the day, Stephen says that it was a busy but good day, and that they are going to LACMA the next day.
This is the first non-overseas and non-cruise vlog to be released in 4K. According to a comment he made on the previous day's vlog, Stephen chose to do so since most of the shots in this vlog were scenic shots.
Ad blocker interference detected!
Wikia is a free-to-use site that makes money from advertising. We have a modified experience for viewers using ad blockers

Wikia is not accessible if you've made further modifications. Remove the custom ad blocker rule(s) and the page will load as expected.