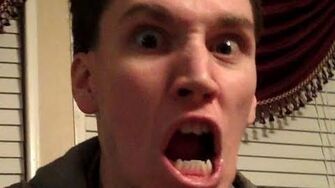 Previous Vlog (Day 383) | Next Vlog (Day 385)
Locations
Edit
It's the day before Stephen leaves to Wisconsin to be with Mallory for Christmas break. Rocko feels very depressed about Stephen leaving, but fully understands. So between the time of packing and the time of his flight, Stephen decides to open a letter from Mitchell, full of Joker cards, and more of laser pointers with Rocko.
Stephen also links to a YouTube channel started by Mitchell and friends called the Jumping Bicycle Show, which can be found here.
The end clip of the vlog is featured on the Fan Favorite Moments video, as one of the memorable moments of the Vlog chosen by fans.
Ad blocker interference detected!
Wikia is a free-to-use site that makes money from advertising. We have a modified experience for viewers using ad blockers

Wikia is not accessible if you've made further modifications. Remove the custom ad blocker rule(s) and the page will load as expected.