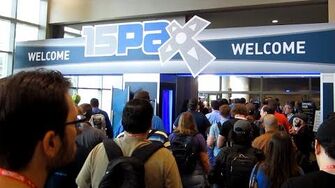 Previous Vlog (Day 2102) | Next Vlog (Day 2104)
Locations
Edit
Seattle, WA

Seattle Convention Centre
Athena's Gyros
Sushi Kanpai
Hilton Seattle
It's the first day of PAX Prime 2015! Stephen and Mal get a chance to demo some games for Ubisoft: The Division, Rainbow Six Siege, and For Honor. While The Division was the game they originally intended to play, it was probably their least favorite of the three. They both really enjoyed Rainbow Six, which might be a very fun co-op game to play with friends. For Honor was a lot like an older game, Chivalry, but made a lot simpler for the better.
Everybody wanders around the convention centre for a while, and the group slowly grows to fourteen people. After sushi, Stephen, Mal, Brooke, Chelsea, Jordan, and Josh play a round of Pathfinder before heading to bed.
Ad blocker interference detected!
Wikia is a free-to-use site that makes money from advertising. We have a modified experience for viewers using ad blockers

Wikia is not accessible if you've made further modifications. Remove the custom ad blocker rule(s) and the page will load as expected.