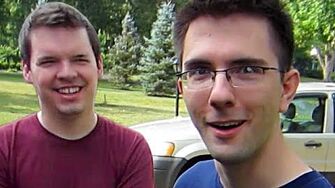 Previous Vlog (Day 1715) | Next Vlog (Day 1717)
Locations
Edit
Muncie, IN

Chaz and Jeff's house
Culver's

Stephen's car
Knoxville, TN
Greenville, SC
Stephen and Mal depart from Cheffcon™ and make the drive back home. It's also Stephen and Mal's 3-year wedding anniversary, but they'll have a proper celebration some time after they get home. On the way, they discover that the car is having some issues, so that's nice.
They make it to their hotel safely and will wrap up their journey tomorrow.
Ad blocker interference detected!
Wikia is a free-to-use site that makes money from advertising. We have a modified experience for viewers using ad blockers

Wikia is not accessible if you've made further modifications. Remove the custom ad blocker rule(s) and the page will load as expected.