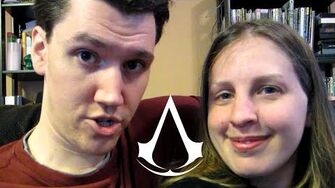 Previous Vlog (Day 1800) | Next Vlog (Day 1802)
Locations
Edit
Stephen and Mal's apartment
Stephen finishes up Assassin's Creed 2, and Mal finishes up Assassin's Creed 1. They spend some time going over their thoughts on the games, spoiler-free. They note that there is a lack of subtitles and a lot of repeated dialogue in the first game, but they enjoyed it nonetheless. Stephen says that the second game exceeded his expectations consistently, especially the ending of the game.
Ad blocker interference detected!
Wikia is a free-to-use site that makes money from advertising. We have a modified experience for viewers using ad blockers

Wikia is not accessible if you've made further modifications. Remove the custom ad blocker rule(s) and the page will load as expected.