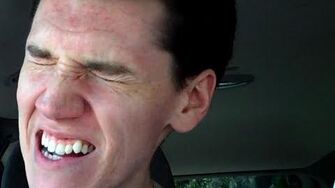 Previous Vlog (Day 543) | Next Vlog (Day 545)
Locations
Edit
Steve's car
Stephen's dorm
Stephen's parents are in town to bring some things back to Myrtle Beach. They go to lunch at LongHorn Steakhouse since they have a coupon for the restaurant. Unfortunately, the coupon is for Lone Star restaurant, but they still get $5 off of their meal anyways.
He says that he has been looking at secret restaurant menus. Highlights include a bacon cheeseburger from Five Guys where the buns are replaced with grilled cheese sandwiches.
They stop by McDonald's to try out the new frozen strawberry lemonade. It doesn't turn out to be that great.
Later, Stephen shows that they have removed quite a bit of furniture from the dorm, including a large shelf. All that's left for Stephen to pack are his clothes, his computer, and the kitchen stuff.
Ad blocker interference detected!
Wikia is a free-to-use site that makes money from advertising. We have a modified experience for viewers using ad blockers

Wikia is not accessible if you've made further modifications. Remove the custom ad blocker rule(s) and the page will load as expected.