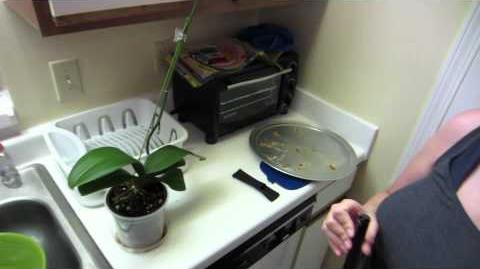 Previous Vlog (Day 969) | Next Vlog (Day 971)
Locations
Edit
Stephen's apartment
Stephen's parents' car
Moe's
Since he had soup for lunch, Stephen tells us the story of how he would eat Campbell's condensed soup for breakfast, lunch, and dinner for several years when he was younger. Then, Mallory shows how her plants have grown and Stephen says that he will have to use the local company in Myrtle Beach because Time Warner will not give him the price they mentioned. Debra and Steve meet Stephen and Mallory in Columbia, they eat at Moe's, and Debra, Steve, and Mallory continue packing Stephen and Mallory's things in preparation for moving.
Stephen: "Look at that thing. That is oregano. That is crazy."
Ad blocker interference detected!
Wikia is a free-to-use site that makes money from advertising. We have a modified experience for viewers using ad blockers

Wikia is not accessible if you've made further modifications. Remove the custom ad blocker rule(s) and the page will load as expected.