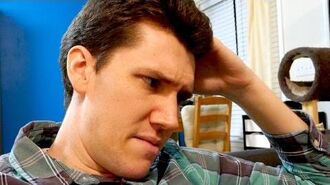 Previous Vlog (Day 2622) | Next Vlog (Day 2624)
Locations
Edit
As Mal dishes out chili for dinner, Stephen talks about how he isn't feeling well. He figures it is probably because he tired himself out from the filming he did the previous day, and then stayed up late working.
He also says that he had trouble sleeping and woke up with a headache. He guesses it ss because when they woke up, they hadn't eaten any food for 21 hours. However, even after eating, the headache remained and Stephen feels no better.
As a result, Stephen decides to go to bed after eating so that he can get more than enough rest and feel better, even though he has only been up 6 hours the entire day.
Ad blocker interference detected!
Wikia is a free-to-use site that makes money from advertising. We have a modified experience for viewers using ad blockers

Wikia is not accessible if you've made further modifications. Remove the custom ad blocker rule(s) and the page will load as expected.