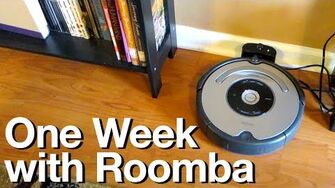 Previous Vlog (Day 2235) | Next Vlog (Day 2237)
Locations
Edit
Stephen and Mal's apartment
It's been a week since Stephen and Mal started using ROOM HOUSE!, so it's time to give a quick performance review of the device (the Roomba 655 Pet Series).
Before getting ROOM HOUSE!, Stephen and Mal would only vacuum once a month - when company was over. This caused a huge buildup of cat hair all around the house and ROOM HOUSE! has certainly helped with managing the cat hair. However, it can't completely replace the act of vacuuming since it seems to knock some things to the edges of the walls and tends to miss edges and corners.
Ad blocker interference detected!
Wikia is a free-to-use site that makes money from advertising. We have a modified experience for viewers using ad blockers

Wikia is not accessible if you've made further modifications. Remove the custom ad blocker rule(s) and the page will load as expected.