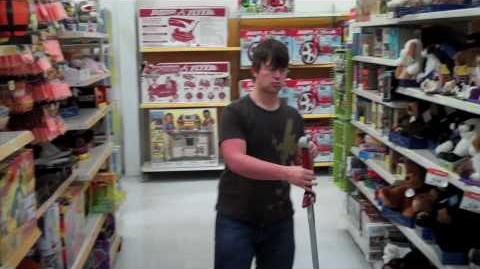 Previous Vlog (Day 88) | Next Vlog (Day 90)
Locations
Edit
The dorm at SCAD
Stephen's Car
Panera Bread
Urgent One Medical
Walmart
Stephen starts out the vlog by talking about a photo he saw on facebook about how some received a notice for not having their room clean enough at another college. He questions if this is good or bad because when they make you do stuff your room doesn't end up like this, to which he shows his floor which is covered in clothes and other things. On the bad side he says it's "none of ya busniess". He then asks us to post a comment below asking for our opinion on the matter.
Cutting to Stephen leaving the dorm, he says that he was planning on going to the doctor's on Monday but he can't take the pain and can't wait. The plan is that he, Dan, and Taylor are going to grab something to eat then Stephen will drop them off at the mall then head over to the doctor's. They head over to Panera; Stephen gets creamy tomato soup, Dan get chicken noodle soup, and Taylor get a sandwich.
Stephen drops them off at the mall and heads over to Urgent One Medical. After the doctor's visit, it is confirmed that he does have a ear infection, but it has turn into a internal and external infection. The doctor subscribed ZPack and ear drops to make sure that the infection is wiped out completely. He heads back over to get Dan and Taylor and to pick up his perscription.
Heading back to Walmart, Dan is seen playing with a toy sword. Stephen says he looks like one of the Thundercats but can't remember which one. He also says he looks like Cloud Strife which how big the sword is, Dan gives us a epic pose.
Back at the dorm, Stephen talks about how the ZPack is different from the other medicine and how it's much stronger. He shows us how messy his desk is with all his pills, which he says he hates taking drugs for anything unless he has to.
Ad blocker interference detected!
Wikia is a free-to-use site that makes money from advertising. We have a modified experience for viewers using ad blockers

Wikia is not accessible if you've made further modifications. Remove the custom ad blocker rule(s) and the page will load as expected.