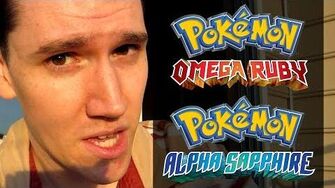 Previous Vlog (Day 1624) | Next Vlog (Day 1626)
Locations
Edit
Stephen and Mal's apartment
Mal prepares some chicken curry for "Gourmet Week" and they're having dinner on the patio! Stephen comments on Nintendo's announcement that they are making remakes of Pokémon Ruby and Sapphire: Omega Ruby and Alpha Sapphire. Stephen expected Nintendo to do this at some point, but he has no real strong attachment to the older games so he will likely not get the new games.
He also mentions that he and Mal haven't been playing X & Y very much, so the series of battles between them that began a few months ago hasn't really been that active.
The title of the vlog appears as the game's logos.
Ad blocker interference detected!
Wikia is a free-to-use site that makes money from advertising. We have a modified experience for viewers using ad blockers

Wikia is not accessible if you've made further modifications. Remove the custom ad blocker rule(s) and the page will load as expected.