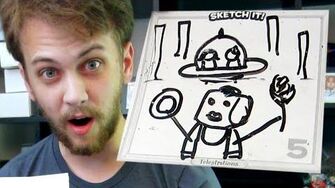 Previous Vlog (Day 1712) | Next Vlog (Day 1714)
Locations
Edit
Muncie, IN

Barn Brasserie
Chaz and Jeff's house
The gang goes for brunch at the Barn Brasserie, which has Ball Mason Jars as water cups. They spend the afternoon playing various games, including Cornhole and a hilarious few rounds of Telestrations. They have an outdoor cookout with some burgers made by Jeff and some macaroni, courtesy of Thomas. They end the game by playing some Dixit.
Ad blocker interference detected!
Wikia is a free-to-use site that makes money from advertising. We have a modified experience for viewers using ad blockers

Wikia is not accessible if you've made further modifications. Remove the custom ad blocker rule(s) and the page will load as expected.