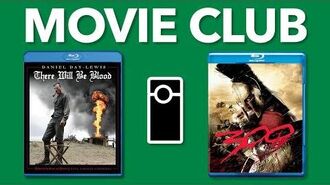 Previous Vlog (Day 2712) | Next Vlog (Day 2714)
Locations
Edit
Stephen and Mallory's house
Outback Steakhouse
Stephen's car
Finally, after more than 2 months (the last Movie Club was on Day 2643), Movie Club continues!
Before they watch There Will Be Blood (2007), Dan provides everyone with milkshakes. There wasn't actually a lot of blood, since the 'blood' in the title refers to oil (and is based on a book entitled Oil!). Overall they found the film interesting (but kinda exhausting), and really enjoyed the orchestration in the film.
After that, they watch 300 (2007). There was a lot of CGI, and a lot of blood. It also kinda looked like a comic book. They then pick the movies for next time which are Boyhood (2014) and The Shining (1980) from Mallory's and Stephen's lists respectively.
They then head to Outback Steakhouse for some food. Unfortunately, they have a bad experience there with the server getting orders wrong, not bringing them water, and the bill had things on it that they never ordered. It was to the point that Stephen had to ask for a manager, and he probably will not go back.
Other Movie Club vlogs are:
Stephen's reviews of the films he's watched in Movie Club (and other films) can be found on his Letterboxd account.
Ad blocker interference detected!
Wikia is a free-to-use site that makes money from advertising. We have a modified experience for viewers using ad blockers

Wikia is not accessible if you've made further modifications. Remove the custom ad blocker rule(s) and the page will load as expected.